An emotional tribute played out at Saint Viator High School's Night of the Lion gala, when the nearly 400 guests gave Fr. Mick Egan, CSV,  a standing ovation. With his term as president of Saint Viator High School nearing its end, he was the featured guest at the school's largest fundraiser.
"Mick embraced St. Viator High School's values as a student," said Fr. Corey Brost, CSV, who will succeed him as president, "and he has spent his entire adult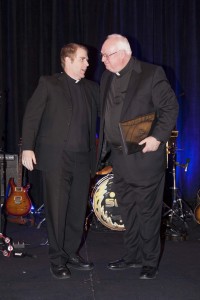 life spreading them as a Viatorian."
Fr. Thomas von Behren, CSV — provincial and president of the school's board of governors —  introduced Fr. Egan to the crowd, as a friend and confrere in the Viatorian community.
"In the earliest days of our formation, it was clear that Mick was a leader," Fr. von Behren said. "You truly have embodied the mission and vision of the school."
School officials pointed to some of Fr. Egan's accomplishments during his eight years as president: He instituted a service requirement for students, helped bring a National Blue Ribbon to the school, oversaw the remodeling of the school's Scanlan Learning Center, and established a random drug testing policy that was one of the first in the area.
Tuition assistance has doubled from $670,000 in 2005 to $1.3 million this school year, and he currently is shepherding a $10 million "Shaping the Future with Faith" capital campaign, which will add classrooms, a new cafeteria, student commons area and fine arts studios and rehearsal space.
True to form, Fr. Egan downplayed his role in the school's accomplishments, instead crediting his faculty and staff as well as the students themselves, whom he called the school's "best ambassadors."
"Our mission is to give students an education that is outstanding and excellent, and to mold them into people of faith," Fr. Egan said. "I'm thankful for your
friendship and support, and confident that there are even better days ahead."