Sr. Guadalupe Rosales and Sr. Concepión Flores — both members of the Missionaries
of the Sacred Heart of Jesus and Our Lady of Guadalupe Congregation — began their ministries working with the Viatorian Community, back in 1966. Consequently, it was only fitting that they celebrate their golden jubilees with members of the Viatorians.
Their celebration took place June 11 at the Viatorian Province Center Chapel. It began with Mass — celebrated by Fr. Thomas von Behren, CSV, and Fr. John Peeters, CSV — and included lively music, a recap of their various ministry sites across the country and a luncheon.
"This is a celebration of the long and wonderful history of two communities sharing life, prayer and relationships — that have been a significant part of the history of both communities," said Br. Carlos Flórez, CSV.
Both Sr. Guadalupe and Sr. Conceptión were assigned to work with Viatorians after they took their first vows. They left their native Mexico, and over the next 50 years, they were re-assigned to multiple sites across the country, before ending up working together — along side of the Viatorians — at the Province Center.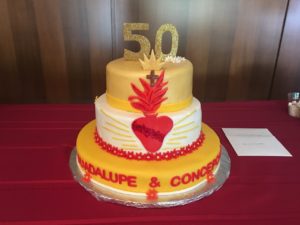 "I want to express my profound and sincere gratitude to the Viatorians for all of their kindness, generosity and prayers," said Sr. Conceptión. "Their goodness and generosity has not gone unnoticed."
Ironically, their jubilees fell during a milestone year between the two communities. It has been 60 years since Fr. Charles Williams, CSV, and Fr. Manuel Loughran, CSV, contacted Sr. María Sanchez, foundress of the Missionary Sisters, to request that the sisters come and work with the Viatorians in Peoria.
That partnership now has stretched over decades and taken the sisters to Arlington Heights, Chicago, Evanston, Kankakee, McHenry, Peoria, Rock Island, Springfield and Washington. It is a relationship both communities continue to cherish.