Teens who served on the Hearts of Hope mission trip last week personified this year's theme: Be the Light.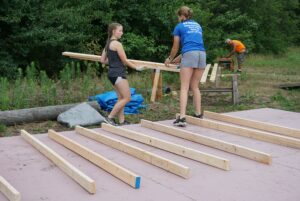 No matter what the task, they stepped up and worked together as a team. Their projects ran the gamut, from mulching and weeding yards, and working around the grounds of Sacred Heart Church; to building a pair of storage sheds and extending a pigpen.
Associates Ken and Michelle Barrie began the Hearts of Hope Youth Ministry back in 1999 as part of the youth ministry program at St. Patrick Church. This year's mission trip — the 18th — drew teens from St. Patrick as well as from St. Joseph Parish in Bradley and St. John Paul II Parish in Kankakee.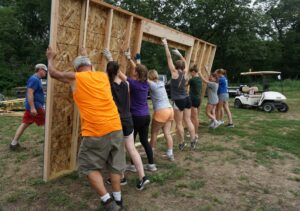 Led once again by the Barries, these young people served the needs of residents in Pembroke, IL — located just 25 miles from Kankakee and reported to be one of the poorest townships in the country.
"The youth make strong personal connections with all those they serve," Michelle Barrie says.
The trip lasted five days, with teens working during the day before returning to the Barrie's rural property in St. Anne, IL, where they camped out each night.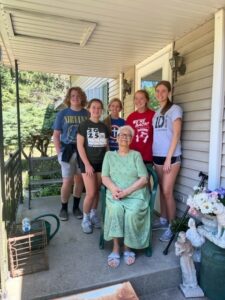 "We returned by bus each afternoon to shower, have dinner, play games and have our nightly prayer services and student talks," Michelle Barrie says. "Our prayer services included Lectio Divina, a foot washing service, as well as sharing and journaling."
While the teens could provide service in other areas, they return to Pembroke each summer, in part because of the relationships the young people have formed with local residents, Ken Barrie says.
"We still find Pembroke a place where we deepen our relationship with the Lord," he says, "and it continues to develop our faith and perspectives on our journey."