Associate Pat Mahoney spent his entire career, or 47 years, at Saint Viator High School, and throughout the years, he instilled a fun loving tradition on St. Patrick's Day that was contagious.
From his Kelly green pants, shirt and derby, to the Irish grin on his face, he brought a smile to the entire school community every year on March 17.
His antics were so memorable, they were captured in the 1979 Viatome yearbook, wearing his signature outfit. In part, his love of St. Patrick's Day goes back to his birthday, which is March 16.
"I'll bet that was a 40-year tradition, or more," says Fr. Charles Bolser, CSV, former president of the school. "He really got into it, everyone loved it."
Mahoney was hired in 1967 to coach baseball and he quickly was tapped to be dean of men. Through the years he served as a faculty member, assistant football coach and ultimately as development director.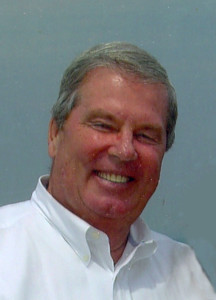 In 2009, Mahoney deepened his partnership with the Viatorians when he committed to becoming a Viatorian associate.
In retirement, he devotes most of his time to family, but he frequently gathers with other Viatorians for liturgies and prayer services, except on St. Patrick's Day. That day he reserves for his tradition, of becoming something of a leprechaun and embracing all things Irish.