For 10 years, students at Saint Viator High School and their families have donated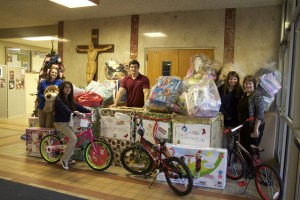 generously to the Walter and Connie Payton Foundation Toy Drive. And this year was no different.
Led by Viatorian Associate Cathy Abrahamian, students filled 19 large boxes of toys, as well as seven bags of stuffed animals, a pair of basketball sets and five bikes.
The Walter and Connie Payton Foundation assists about 5,000 children throughout the year and works directly with the Illinois Department of Children and Family Services to provide for their holiday giving. 
"I want to thank the Saint Viator High School community," Cathy said, "for their love and generosity."
This project is close to the heart of the Saint Viator Community. Jarrett Payton, son of the legendary Chicago Bears' running back, Walter Payton, graduated in 1999 from Saint Viator and he continues to remain involved with the school.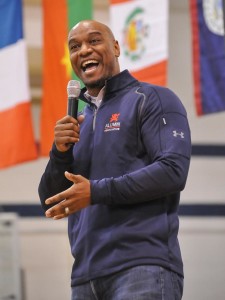 Most recently, he returned to serve as a motivational speaker during St. Viator Day workshops.
For five consecutive years, Saint Viator placed first in a friendly competition between area high schools, by collecting the most boxes of toys. While this year's tally is not complete, Saint Viator families increased their giving, collecting even more toys than last year.