Viatorians like to roll up their sleeves and get their hands dirty, if it helps them feed the hungry and care for God's creation.
Ten years ago, Br. Michael Gosch, CSV, and Fr. Daniel Hall, CSV, started the Viatorian Giving Garden on the grounds of the Province Center. Right from the start, its mission was to grow fresh vegetables for families served by local food pantries.
Plenty of associates and staff members jumped in, as well as students and alumni from Saint Viator High School. From those first seeds, planted in 14 raised beds in 2012, they have donated thousands of pounds of produce to local food banks. In recent years, they also have drawn participants with Viator House of Hospitality and the Children of Abraham Coalition to join them.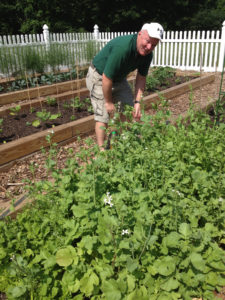 The gardening ministry has been so successful, that last fall they nearly doubled the size of the garden, with the hopes of drawing more gardeners committed to feeding the hungry. Associate John Dussman has managed the garden for the last five years and this year, Ed Flynn will help him.
Already, their mission is blossoming in Las Vegas, where for the last five years, students at St. Viator Parish School in Las Vegas have tried their hand at gardening. Called the "Grow with Me Garden," it has been funded each year from the school's Parent Teacher Organization as well as from a grant from the Viatorian Community.
"We are thankful for the many Viatorian blessings our school receives," said Principal Katie Kiss, "and our SVS garden is no exception."
Teachers see the garden as a valuable learning tool, reinforcing for students just where food comes from and the importance of sustainable gardening. The school partners with the urban garden organization, Garden Farms of Nevada — in tending the garden plots.
Recent harvests have yielded spinach, bok choy, radishes and lettuce, as well as corn and potatoes, herbs, strawberries and flowers.
Instead of donating their crops, this nutritious produce was made available to school families in need in Las Vegas, which was hit hard during the pandemic crisis.