A panel of four painted windows, which once hung in the Viatorian Novitiate on Sheridan Road in Chicago, and later in the Province Center in Arlington Heights for 20 years, now hangs in a most high visibility location: the Smith Museum of Stained Glass on Navy Pier in Chicago.
Called the Four Seasons, they date back to 1907 and the Czech artist, Alphonse Mucha.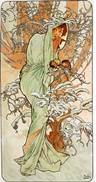 Their route, from the Viatorians to Navy Pier, is "enigmatic," says Rolph Achilles, museum curator, but this much he knows: the windows are a fine example of the Art Nouveau movement, that Mucha himself helped to create.
"An attribution to Alphonse Mucha was tentatively made," Achilles says, "but I have not been able to prove this attribution yet."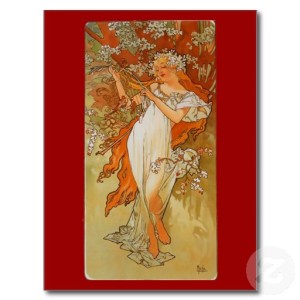 According to Achilles, the Four Seasons were painted for a house located at 6205 N. Sheridan Road in Chicago, that was designed in 1906 by architect William Carbys Zimmerman. The Viatorians purchased the house in the 1940s, moving their growing Novitiate from Bourbonnais, IL to Chicago.
The Viatorians retained the house on Sheridan Road until 1980, when they sold it to the Chicago Park District. The windows, however, moved to the community dining room at the Province Center, where they stayed for the next 20 years, when they were sold during an auction.
"They were the first thing to sell," remembers Br. Don Houde, CSV. "An East Coast collector snatched them up."
Fast forward another 20 years, to another sale, this time in New England, when the Four Seasons again came up for auction.
"When the announcement of their sale came to the attention of the Smiths," Achilles says, "they bid on them and beat out several other bids."
The Four Seasons were among the first windows to go on display when the Smith Museum opened in 2000, as the first of its kind in the United States dedicated solely to stained glass windows.
Its visibility on Navy Pier, makes these pieces of fine art accessible to the more than 6 million visitors the pier draws each year.