It has been exactly three years since Deacon Michael Underwood, a Viatorian associate, was assigned to St. Viator Catholic Community in Las Vegas. As a full time member of the parish ministry staff, Deacon Mike expected to assist at Masses, visit the sick and officiate at baptisms, funerals and weddings. But over the last three years he has done so much more.
"He's been indispensable," says Fr. Richard Rinn, CSV, Pastor.
Most recently, Deacon Mike filled in to hold a pet blessing on the feast of St. Francis. A dog owner himself, he took special care to bless each and every pet that was on hand. He held a similar blessing for school children who brought their pets to school.
Children in the school know Deacon Mike well. He is a familiar visitor to different rooms and he also helps out on occasion with Campus Ministry.
"The support of the priests and Deacon Mike is huge," says Associate Rosy Hartz, Faith Formation Coordinator, "especially when they stop to lend a hand if we are working on a community outreach project."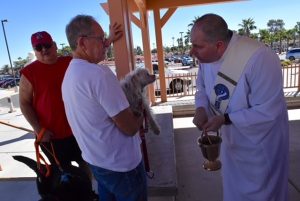 Deacon Mike and his wife, Kathy, also an associate, met while working with RCIA candidates at St. Thomas More Catholic Community and they became actively involved in its ministries. When the Archdiocese of Las Vegas assumed control of St. Thomas More, Fr. Rinn approached Deacon Mike about making the move to St. Viator.
"Both Kathy and I are very excited, especially knowing the parish needs the help," Deacon Mike said at the time. "It was a difficult decision to leave St. Thomas More ( in nearby Henderson), but as a deacon I am ordained to serve."
Deacon Mike was ordained in 2011 as a member of the first class of deacons ordained in Southern Nevada. His ordination came five years after Deacon Mike and Kathy — Director of the Student Health Center at UNLV — made their first commitments as Viatorian associates.
"As an ordained deacon, I made a vow to serve and share the gospel," Deacon Mike says, "but I'm also committed to helping wherever the Viatorian Community needs me."