Viatorians around the world paused on Oct. 21, the feast of St. Viator, to reflect on their gospel-inspired mission.
"Let us be women and men who believe deeply in the church, act boldly on its evangelizing mission and responsive to the needs of the world," says Fr. Alain Ambeault, CSV, superior general. "May this grace be ours."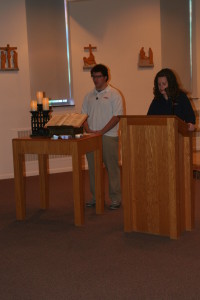 Their celebrations took many forms. In the Kankakee/Bourbonnais region, associates, brothers and priests gathered at the historic grotto on the grounds of Maternity of the Blessed Virgin Mary Parish for a Marian celebration of the feast day.
Seated around the 100-year old grotto, community members recited a prayer composed by Fr. Pascal Lajoie, CSV, superior general, during a pilgrimage to Lourdes in 1892.
"Oh, most merciful Mary Immaculate, humbly gathered at your feet," they prayed, "the Viatorian Community gathers before you, in all the sincerity of the soul. Solemnly and irrevocably we consecrate ourselves to your immaculate heart."
Members of the Chicago Province gathered for an evening prayer in the chapel at the province center in Arlington Heights.
"God has called us at this moment in time," said Fr. Thomas von Behren, CSV, provincial, "to be proclaimers of the word of God. We reaffirm our mission to be dedicated educators of faith and to raise up communities of believers, who espouse the values of Jesus Christ."
At Saint Viator High School, teens who had attended the Viatorian Youth Congress led their classmates in prayer services during individual religion classes.
"Instill in all of us gathered here, a desire to join in the Viatorian mission," the teens prayed, "to announce the good news of Jesus Christ, and to educate others about the spirit of Saint Viator."