Fr. Robert Spiekerman, CSV, was a renown band director, whose legacy of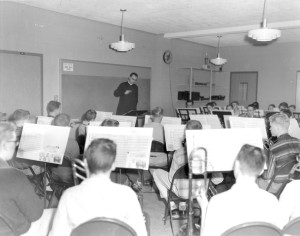 developing a love of music among his students at the former Cathedral Boys High School in Springfield, still resonates today.
He taught at Cathedral — later Griffin High School — for only 14 years and it was his only assignment as a Viatorian. Tragically, he suffered a massive stroke, at the age of 43.
More than 50 years later, his memory remains visible with current band students at Sacred Heart-Griffin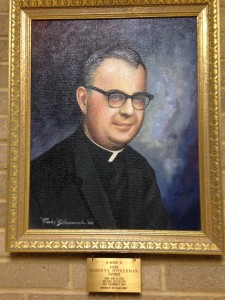 High School. A portrait of Fr. Spiekerman hangs in their newly renovated band room — a renovation that was funded in part by his former students.
A tribute to Fr. Spiekerman ran in the 1966 yearbook, and more recently, Tom Higgins, from the class of 1963, described Fr. Spiekerman's impact in a letter he wrote to the school in 2007.
He recounted the discipline and practice that Fr. Spiekerman instilled, as well as some of the band's more memorable trips, including a televised performance at a St. Louis Cardinals' football game, opening the Indianapolis 500
and welcoming Sen. John F. Kennedy to Springfield in 1960 when he was campaigning for president.
"I hardly ever hear a marching band or see a half-time football show, without thinking of Fr. Spiekerman," Higgins wrote. "He was a remarkable figure from my high school years, a role model for integrity and dedication to his vocation as a priest and teacher."
Fr. Spiekerman entered the Viatorian Community in 1946, exactly 70 years ago, and he was ordained a priest in 1951.
His legacy as a Viatorian comes full circle this year. Not only would he have celebrated 65 years of priesthood, but his great-nephew, Tim Spiekerman graduates this weekend from Saint Viator High School, the last of Fr. Spiekerman's extended family to do so.
Another great nephew, Fr. Jamie Mueller, was ordained to the priesthood in 2014, carrying on his great uncle's devotion to the church in his role as an associate pastor at a parish in Waukegan, IL.