The Cahill gymnasium at Saint Viator High School will play host Friday to senior night for the boys' basketball team, when the Lions face off against their ESCC rival, Joliet Catholic High School. And the place will be packed.
It's just one of a myriad events that take place every day in the familiar gym, known to students and alumni alike merely as the "Cahill."
The gym was dedicated in Fr. Patrick Cahill's name in 1995, at the request of then president, Fr. Charles Bolser, CSV, and Associate Patrick Mahoney, a longtime coach and vice president of advancement. Fr. Cahill passed away Feb. 5, 2002 at the age of 69, but his legacy as a Viatorian lives on.
"But Charlie," Fr. Cahill reportedly said to Fr. Bolser at hearing of the idea to dedicate the gym in his name, "I'm not dead."
Despite his reluctance, the dedication took place approximately 15 years after Fr. Cahill had left the school, ultimately to serve as athletic director at the University of San Diego before doing parish work. However, Saint Viator High School was his first assignment, taking him from teacher to athletic director and president (1974).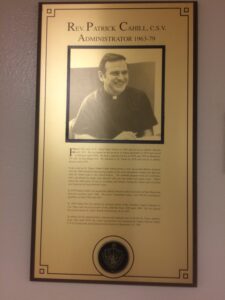 During his years as athletic director (1963-1974, 1978-79) his teams enjoyed great success, including 1965 baseball team, which advanced to the state championship and finished as runner-up; while the football teams won 10 conference titles and played in many state playoffs.
At the same time, Fr. Cahill started club sports in soccer, wrestling and hockey, before seeing wrestling established as a varsity sport. All of these sports continue to thrive at Saint Viator.
A dedication plaque still hangs across from the entrance to the Cahill gymnasium, thanking Fr. Cahill for all of his "administrative and spiritual care of all the Saint Viator students."
At the dedication dinner, Fr. Cahill's friend and Provincial at the time, Fr. Mick Egan, CSV, a 1969 graduate, gave this tribute: "Thanks to Pat from his Viatorian brothers. His own kind of gentle caring and integrity is really what we honor tonight. Not flamboyant in his character, he is what it means to be a Viatorian and a man of God."