Officials with Catholic Theological Union dedicated the cover story of their spring newsletter, Logos, to Fr. Mark Francis, CSV, immediate past president, and Sr. Barbara Reid, OP, its new — and first woman — president.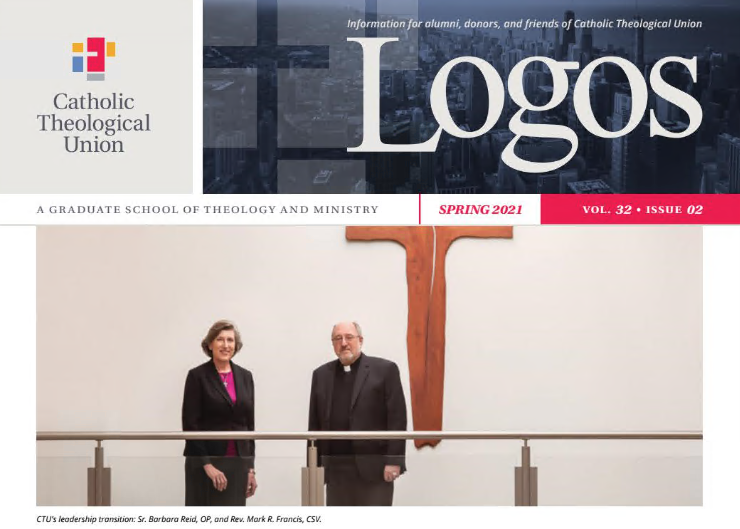 The cover story comes after Fr. Francis served as the sixth president of CTU — and second Viatorian — leading the institution for seven years.
"His role as leader of CTU capped a remarkable career of service that began with his ordination in 1984 and has taken him to six continents. But his connection to CTU has been a constant touchpoint over the last 40 years."
Over nearly five pages, the newsletter highlights his ministry with the Viatorians and eventual role as Superior General in Rome, as well as the number of times he returned to CTU for additional studies and service, capped by his election in 2013 as president.
In recapping his leadership, CTU editors pointed to these major accomplishments:
The strategic review of the curriculum to prepare students for the rapidly changing world and the needs of the local and global church
Invigorated CTU's Catholic-Jewish Studies and Catholic-Muslim Studies programs aimed at fostering deeper understanding and collaboration between faith traditions
Strengthened CTU's ecumenical commitment with surrounding Protestant denominations
Intensified CTU's outreach to men and women religious
Launched the $16 million Forward in Faith capital campaign aimed at reimagining what theological study and a seminary education can offer men and women — lay and religious
Cardinal Blase Cupich, Archbishop of Chicago, closed the article thanking Fr. Francis for his ecumenical and interreligious leadership.
"Under your global vision, shaped as Superior General of the Viatorians for 12 years, has been fundamental," Cardinal Cupich said. "CTU's diverse community, which embraces men and women, religious and lay leaders from more than 60 countries, models the gospel's universal message of love, justice and peace."
All of which left Fr. Francis humbled.
"Being president of CTU has been a wonderful and life-changing experience," Fr. Francis says. "I will remain forever grateful to God for the privilege of this ministry. I have often said that I have had three incarnations in this institution: as student, faculty member, and president. CTU has been an integral part of my religious and ministerial life since 1978."