Fr. John Van Wiel, CSV, celebrates a milestone anniversary next month: 60 years of religious life.
In any other year, he would be recognized by the wider Viatorian Community at the annual Provincial Assembly, but alas not this year. Instead, he expects to celebrate the day quietly, saying Mass for his confreres in the Provincial Center Chapel and getting outdoors, where he never fails to experience the beauty of God's creation.
"I love to walk outside," Fr. Van Wiel says, "and see God in nature on a daily basis."
If possible, Fr. Van Wiel hopes to find a little time to paint, which allows him to love the beauty of God's creation even more.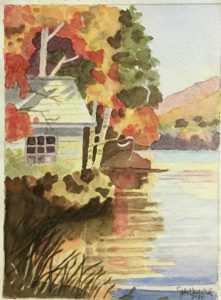 Painting is a hobby he has pursued for more than 30 years, and during this year's pandemic, he has produced 20 new paintings.
They range from rural to mountainous landscapes, each one more peaceful and calming than the next. A closer look reveals layers of coloring and shadowing, giving depth to each scene and drawing the viewer in. He works on his paintings at an art table in his suite in the Province Center. The room offers plenty of natural light, and the beauty of the Province Center grounds and its abundance of flowering trees, inspire him.
His art table is a far cry from the science tables he worked at for so many years, teaching students chemistry. In all, Fr. Van Wiel spent more than 40 years as an educator and administrator at Viatorian high schools — including Alleman, Bishop McNamara, Griffin and Saint Viator high schools.
This summer, amid these unprecedented times, he recently reflected on the many blessings he has received through his ministry.
"Certainly my life has taken many turns," Fr. Van Wiel said, "but I have been blessed in so many ways over the years, and I am grateful to God for the many good things that have been given to me."