Las Vegas motorists traveling on I-15, at its busiest interchange near the Strip  — affectionately called the Spaghetti Bowl — cannot miss the giant billboard towering overhead.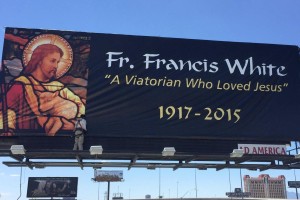 It was dedicated by an anonymous donor to Fr. Francis White, who passed away June 7 at the Province Center in Arlington Heights. He was 97.
Reportedly, 300,000 motorists past through the interchange every day.
"Literally, everyone in Las Vegas can see it," says Br. Rob Robertson, CSV.
It was in 2013, that Fr. Thomas von Behren, CSV, described Fr. White as a "giant of a Viatorian." In part, he reflected on his long and varied ministry, but mostly he referred to the depth of emotions that his former parishioners felt about him in Las Vegas, where he spent nearly 30 years at the end of his active ministry.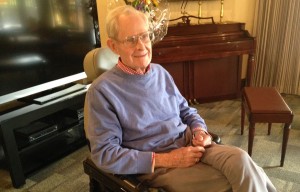 Fr. White spent 1970-1979 as pastor of St. Viator Catholic Community and from 1983 to 2003 as associate pastor of the Guardian Angel Cathedral on the Las Vegas Strip.
"This is where his gentleness blossomed; he really felt at home in Las Vegas," Fr. von Behren said at his funeral. "It's where bonds were formed, where he changed lives.
"It was love in action — and in ministry," Fr. von Behren added. "He was simply unforgettable."
Fr. White's contributions to the Las Vegas region were remembered June 16 at a Memorial Mass celebrated at St. Viator Catholic Community.