Actor Hugh Jackman has nothing on Fr. Daniel Belanger, CSV. This multi-talented priest — celebrating 25 years as a Viatorian this year — took to the stage, dressed as the ringmaster, at Bishop McNamara Catholic School's annual dinner auction on Nov. 5.
Together with the event's co-chairs Scott and Jenny Fogel, they performed a show stopping dance to the title number from the film, "The Greatest Showman."
It was all part of this year's theme — A Million Dreams: Under the BMCS Big Top — that underscored the school's mission of empowering students through faith-based academic excellence and service.
Terry Granger, president of Bishop McNamara Catholic School, recognized Fr. Belanger for his many years of support. He described Fr. Belanger's roots in youth ministry, working at Maternity BVM Parish, from 2000 to 2007, before returning to the region after his ordination as a priest, leading St. George and now St. Mary's parishes as pastor, while spending 10 years as chaplain of Bishop McNamara Catholic School.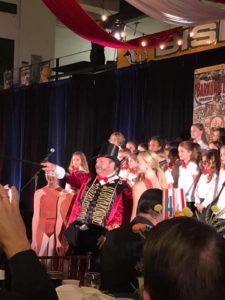 One of Fr. Belanger's most recent projects was starting the Holy Grounds Café at Bishop McNamara High School in 2018.
"It took him three years to convince me to do it," Granger said, "but it has become one of the most successful things we've done. Our kids enjoy it; it's run by our kids and has been an outstanding thing."
It turns out that Fr. Belanger and Granger worked together at Maternity, where Granger referred to him as "Br. Tornado," for his many ideas and projects."
"He still demonstrates that same energy and commitment — whether it's at his home parish, St. George, or here at Bishop McNamara," Granger said. "Thank you, Fr. Dan Belanger, for your many years of support and commitment to Catholic education."