Less than six months after being elected Provincial Superior of Viatorians in this country and in Colombia, Fr. Daniel Hall, CSV, took his seat at the Extraordinary Council, held earlier this month in Montreal.
The gathering takes place every year and draws provincials from all of the Viatorians'
international provinces — including Canada, Chile, Spain, the United States and the delegation of France — to consult with Fr. Robert M. Egan, Superior General, and his councilors, including Fr. Claude Roy of Canada, Fr. André Crozier of France, Fr. Claudio Ríos of Chile and Fr. Robert Jean of Haiti.
The meeting is conducted in the spirit of international solidarity and intended to share ways to promote the development of the Viatorian mission around the world.
"The meetings were all about the international community," Fr. Hall said. "We heard about everything going on in the different provinces, as well as with the General Direction. It was very upbeat and there was a real sense of accomplishment."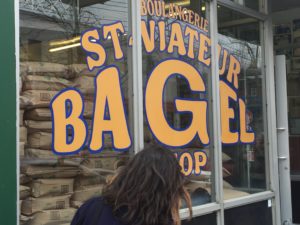 During his week in Montreal, Fr. Hall visited a famous bagel shop on St. Viateur Avenue that dates back more than 60 years.
He also had the chance to revisit with Fr. Leonard Audet, CSV, who served as Superior General during the years when Viatorians opened a mission in Belize, started by Fr. Hall and Bishop Christopher Glancy, CSV.