Fr. Dan Hall, CSV, goes about his work quietly.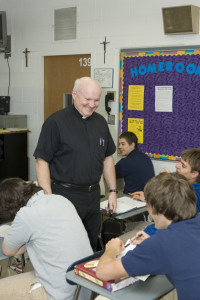 Every day, he reports to Saint Viator High School in his collar, ready to teach students about geography, global economics and U.S. history.
In all three courses, he draws from his own military experience, as a Marine chaplain. After school, he transforms into a coach, working with special teams players in football and underclassmen wrestlers.
His impact on students has been profound, and this year his colleagues on the high school's faculty and staff acknowledged that.
At the end of the year luncheon, they voted Fr. Hall to receive the Fr. Louis Querbes Award. It is given annually, to a faculty or staff member who best represents the spirit and mission of Saint Viator High School.
"He is a role model for so many of our students," says Fr. Corey  Brost, CSV, president. "He models service to others, academic integrity and just being a mentor to young people."
Outside the classroom, Fr. Hall helped start the Viatorian mission in Belize and he currently serves as a councilor to the provincial of the Viatorian Community.
"On a personal level, (Fr. Hall) shows me on a daily basis what it means to sacrifice," Fr. Brost added, "and what it means to be a priest."
Upon accepting the award, Fr. Hall received a standing ovation.