Grateful families at Saint Viator High School and St. Viator Parish have looked for ways to thank Fr. Charles Bolser,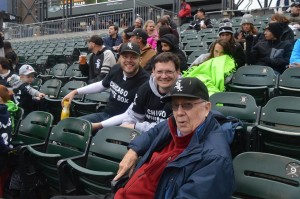 CSV, for his years of ministry, but one family went above and beyond.
During the last weekend of regulation baseball, they took Fr. Charlie to watch his favorite team: the Chicago White Sox.
Nearly 35 members of the extended Walsh family accompanied Fr. Charlie on the trip. They all donned the same, specially designed White Sox T-shirt for the event, which simulated a priest's collar at the top, and named Fr. Bolser on the back. It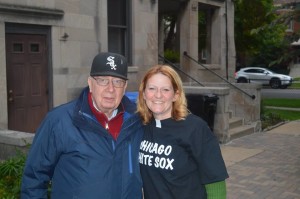 also featured the slogan, "Lion for Life" on the sleeve and logo for Saint Viator High School, which Fr. Charlie led as principal and later as president, for a dozen years.
"It was a great day celebrating a staple in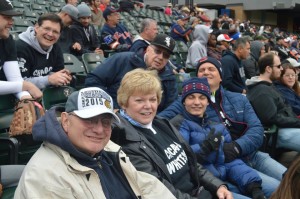 our lives," said Katie Walsh Bird, who helped organize the excursion. "Cheers to your next chapter."
Look for that next chapter to include development work for two institutions near and dear to his heart: both Saint Viator High School and Cristo Rey St. Martin College Prep, which he led as president for three years.