Fr. Arnold Perham, CSV, celebrates another birthday today. At 93 years young, he is the oldest Viatorian in the Province of Chicago, and while his career has been spent computing numbers, age is one number he doesn't dwell on.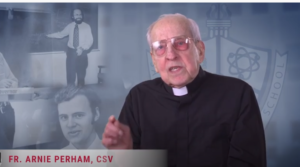 In fact, Fr. Perham continues to turn back the clock. Each day, he works on his computer developing math problems for members of Saint Viator High School's math team, and for its Querbes Scholars.
"I love it," Fr. Perham says. "It gives me a reason to get up in the morning. Any time you can work with young people, it's a good thing."
For the past several months, Fr. Perham has been reading up on Palladio, a software visualization tool developed by Stanford's Humanities + Design Lab that helps illustrate maps, network graphs, and data tables. He has incorporated this software into a project for sophomore Querbes Scholars, as a way for them to use a digital tool to analyze the humanities.
"I selected Act 1 Scene 1 of Shakespeare's King Lear.," Fr. Perham explains. "I created a spreadsheet with this very simple data. The first column contains the names of the actors who speak, while the second column contains the actors who are spoken to by those in the first column."
The students then load this spreadsheet into Palladio, which produces a network visual of the data. Using these features, students are asked to determine who speaks most often, Kent or Cordelia. Additionally, how many times does the Duke of Albany speak with other actors in Act 1 Scene 1?
Fr. Perham has been developing projects for Querbes Scholars — that encourages students to think outside the box — since the program's inception in 2010. Previous projects have ranged from exploring the Transcontinental Railroad to the Pantone Color System, and all through a mathematical lens.
It's all in a day's work for this Viatorian. Fr. Perham will celebrate 75 years of religious life next year and 67 years of priesthood. He has devoted his life to advancing the Viatorian mission of accompanying young people in the church, and remaining committed to their faith development and active membership in their respective faith communities.