Fr. Robert Erickson, CSV, built a career in secondary education, serving as principal of Bishop McNamara High School in Kankakee, and at Griffin High School in Springfield before overseeing its merger to become Sacred Heart Griffin High School, where he stayed on as vice principal and development director.
He would spend the next 16 years as provincial treasurer of the Viatorian Community before retiring, when he found his voice as a guest presider and popular homilist at parishes across Chicago's Northwest suburbs.
Fr. Erickson passed away Jan 15 at Alden Estates of Evanston Rehabilitation Center where he had been recuperating from a recent surgery. He was 75.
A native of Springfield, Fr. Erickson was born July 17, 1940. He professed his first vows on Sept. 8, 1959 and this year would have celebrated 57 years of religious life as a Viatorian. He was ordained a priest on May 20, 1967 in Springfield by Bishop William O'Connor. Next year, Fr. Erickson would have celebrated his 50th jubilee in the priesthood.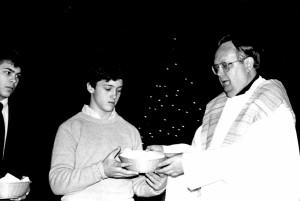 At the heart of Fr. Erickson's ministry, was teaching. He began his career as a math teacher at Saint Viator High School, from 1967 to 1973, before being assigned to Bishop McNamara High School, where he taught and later served as assistant principal, from 1973 to 1978.
For the next 10 years, from 1978-1988, Fr. Erickson led the all-boys, Griffin High School in Springfield before it merged with Sacred Heart Academy for Girls, run by the Dominican Sisters of Springfield.
Administrators at Sacred Heart-Griffin celebrated 25 years of co-education in 2014 and they invited Fr. Erickson back, along with Sr. Mary Paul McCaughey, O.P., who as vice-principal and principal, respectively, laid the foundation for the new institution.
"This was an idea whose time had come," Fr. Erickson said at the time. "We were literally a block away from each other and already shared some classes.
"So there already was this movement," he added, "and in merging, we combined the best elements from both schools."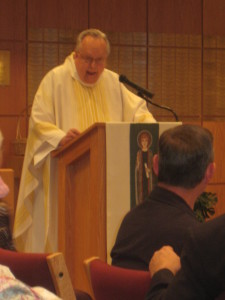 Both administrators would leave three years later. Fr. Erickson was elected by his confreres to the provincial council, to serve as treasurer, which he did for the next 16 years, before retiring in 2010.
During his years at the Province Center, Fr. Erickson was a regular guest presider at parishes across the Northwest suburbs, where parishioners enjoyed his scholarly approach to his homilies, and his comforting words at the end: "Remember, God loves you."
Visitation will take place from 3:30-6:30 on Friday, Jan. 22 at the Viatorian Province Center, 1212 E. Euclid Ave. in Arlington Heights. A Mass of Christian burial will take place at 10 a.m. Saturday, Jan. 23 at St. James Catholic Church, 831 N. Arlington Heights Road. Interment will be at Queen of Heaven Cemetery in Hillside.