Fr. Edward Anderson, CSV, holds a special place in the annals of Viatorian history. He was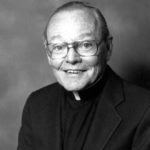 the first provincial to be elected to the term — serving from 1969-1974 — and that event signaled a profound change in the way the Viatorian Community was led.
Fr. Anderson passed away on Aug. 14. At 94 years old, he was the oldest member of the Viatorian Community.
"Fr. Anderson ushered in a new spirit and vision for the congregation," says Fr. Thomas von Behren, CSV, provincial. "With the spirit of Vatican II, Fr. Anderson laid a foundation that embraced collaboration with the laity and an openness to the emerging post-Vatican II changes that were taking place throughout the church in the United States."
He brought an extensive background as an educator and administrator to his leadership role, as well as his years of scholarly work. Mostly, his confreres remembered him as their moral theology teacher in the seminary both in Washington DC and in Arlington Heights.
Early teaching assignments would take him to St. Joseph School for the Deaf and Stepinac High School, both in New York, to Spalding Institute in Peoria, Cathedral Boys High School in Springfield and Alleman High School in Rock Island, IL.
A pivotal role came in 1966, when Fr. Anderson became the fifth principal of Bishop Gorman High School in Las Vegas. He not only helped strengthen the school, but he discovered a love of the desert community, and except for the five years he spent as provincial, he would spend the rest of his years in ministry there, or more than 40 years.
Residents knew and loved him as pastor of St. Viator Catholic Community, as well as rector of Guardian Angel Cathedral, all before his retirement in 1990.