A sixth grader at St. Viator Parish School in Las Vegas captured this video Saturday, of the Thunderbirds doing a fly-over in support of health care workers, first responders and essential personnel working on the frontlines of the coronavirus. The fly-over featured six F-16 Fighting Falcons and soared across the city, over several hospitals and even a military cemetery, lasting 25 minutes in all.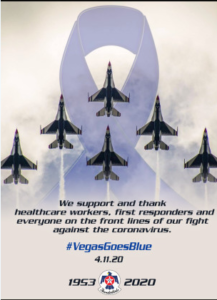 With the parish and all of Las Vegas in close proximity to Nellis Air Force Base — home to the U.S. Air Force Thunderbirds — residents are accustomed to seeing fighter jets in the air, but this fly-over was different, says young Justin, who filmed them overhead, and his mother, Jennifer.
"The lasting impression of this one wasn't the jets flying but what the fly-by stood for, especially with the lone jet lagging behind," Jennifer said. "It symbolizes the lost. It gave us American pride but it also gave us Vegas pride and gratitude to those on the COVID frontline, and a sense of hope that our city can get through this."
Justin's father is based at Nellis with the Air Force. Because of his service, the family has moved many times and could face orders to move again, but they found a home at St. Viator Catholic Community and its school, his mother said.
"Catholic school was always our children's constant," Jennifer said, "and with them being older, it's hard to move."
The fly-over made an emotional impact on Mrs. Tracy Brunelle, Principal of St. Viator, as well. She thought of her own father, who flew F-111 fighter jets for the Air Force until he retired at Nellis. He passed away the day before the start of this school year.
"The flight path was directly over the Boulder City Veterans Cemetery and I know that my father would have had his eyes fixed to the sky this day," Mrs. Brunelle said. "It was truly a special reminder that we have the power and might to stand up to anything in our way."