Less than two months into his new role as Director of Vocation Ministry for the Viatorians, Br. Peter Lamick, CSV, is on a roll. Earlier this month, Br. Peter organized a one-day, young adult retreat, with support from fellow professed Viatorians and Pre-Associate Dan Masterton, Coordinator of Pastoral Ministries. The retreat was for young men between the ages of 18 and 22 and took place at the Province Center.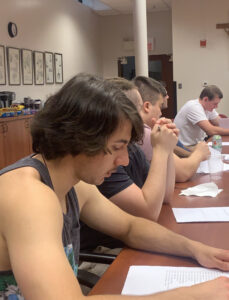 Coming up Nov. 4 is another one-day gathering, this time a Discernment Retreat for Catholic young men, with faith-sharing talks, prayer, food and fellowship, and once again taking place at the Province Center.
"The Viatorians have identified reaching out to young adults as a priority for our future," Br. Peter says. "This mirrors the general response of the Church to reach out and accompany young adults, many of whom are walking away from the Catholic faith."
Br. Peter and Dan were cautiously optimistic about drawing a good sized group for this first time event, but they really had no idea what to expect. Not to worry. The drew 12 participants, including 11 alumni from Saint Viator High School — from the classes 2019, 2020, 2022 and 2023 — and one alumnus from Colegio San Viator in Bogotá.
"The experience was meaningful and essential for me," said Kyle Wallisch '22. "As I said at the end of the retreat, I appreciated the fact that I wasn't alone with my challenges in my faith journey. It was a sigh of relief."
The working title of the retreat was On the Way: Becoming a Companion of Jesus, using the Road to Emmaus, from Luke's gospel as the thematic text.
"The story lends itself to the experience of being a young adult Catholic in today's world," Br. Peter says, "the challenge of knowing and following Jesus, and how Jesus seeks to draw close to each one of us, hoping we open our hearts to welcome and respond to his love."
The retreat included talks from two of the participants — and Br. Peter — as well as small group discussions, shared meals, recreation, adoration and Mass. Participants were able to talk to other Viatorians at the retreat, including Br. John Eustice, CSV, Fr. Dan Hall, CSV, Br. Rob Robertson, CSV, and Br. Jhobany Orduz, CSV.
"The experience was great," added Liam Harding '20. "I liked hearing from multiple perspectives of people in my age group but also being able to spend time with people in religious life."