Parishioners at St. George in Bourbonnais have a particular devotion to the Blessed Mother — and even their first communicants know of her intercession.
After the parish's first communion liturgy, on May 1, each of the children posed for a portrait photo with Fr. Dan Belanger, CSV, pastor — and with Mary, traditionally known as the Queen of May.
Fr. Dan gave a blessing to each child and added a particular word of thanks to their parents: "Thank you for continuing their religious education during these chaotic times."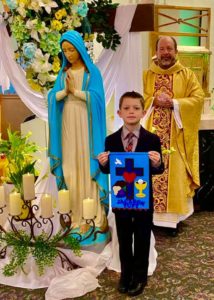 Last year, parishioners wrapped up a year of activities and prayer services devoted to Mary.
"The whole year was coordinated to reflect our devotion to Mary," Associate Susan Surprenant said, "and how her life continues to speak to us."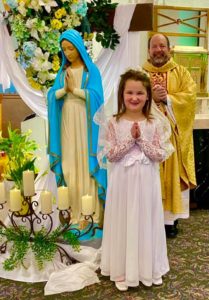 Mary's presence can be seen throughout the church grounds: from the replica of the Our Lady of Grace statue — designed after one at St. Nizier Church in Lyons, France, where the founder of the Viatorians, Fr. Louis Querbes, served as pastor — to the intimate rosary garden, to images inside the church.
On May 1, before the first communion liturgy, Fr. Dan wished his parishioners a happy May Day: "In the Catholic Church we celebrate May in honor of our Mother Mary. Take a moment to reflect today and every day this month and think about the ways her life continues to inspire us."
Now, each of these first communicants will have a keepsake photo of their special day, with Mary, Our Lady of Grace, Queen of May and the Blessed Mother.