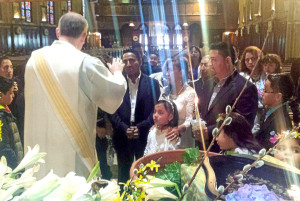 Six months after being ordained a transitional deacon — and two months before becoming a priest — Br. Daniel Lydon, CSV, performed his first baptism.
It took place in the historic St. Viator Church in Chicago, where the Viatorians have ministered for more than 125 years. There, with beams of light pouring down on the child, Br. Lydon baptized 5-year old Ciara, surrounded by her large, extended family.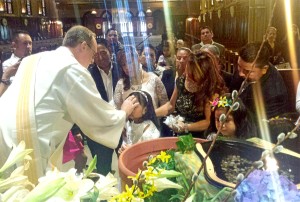 The family came to Chicago from Ecuador and consequently Br. Lydon performed the sacrament in  Spanish.
"It's such a beautiful ceremony," Br. Lydon commented. "And it was even more beautiful, because she was a 5-year old girl, and could understand everything I was saying. When I said her name, she lit up."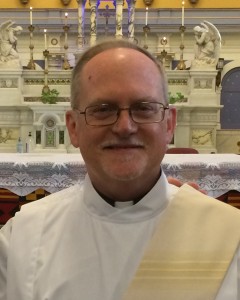 The baptism signaled the start of a promising ministry for Br. Lydon. Within one week, he performed his first funeral service and will soon lead his first retreat for Viatorian associates in Bogotá.
His ordination to the priesthood comes more than 40 years after he graduated from Saint Viator High School and 20 years after returned to his alma mater to teach Spanish and eventually join the administration.
Br. Lydon has resided at St. Viator Parish for the last four years while continuing his seminarian studies at Catholic Theological Union in Chicago.