'A stitch in time, saves nine.' Fr. Moses Mesh, CSV, found this old adage to be true when he learned to crochet as a novice.
That's right. Back in 2004, during his novitiate year at St. Patrick Church in Kankakee, he would accompany his fellow novice, Br. John Eustice, CSV, to the home of Helen Eustice, John's grandmother, in nearby Ladd, IL.  It was here that he learned to pick up a crochet hook and in the process, he found it to be relaxing, productive — and a way to engage in prayer.
Over the last 18 years, Fr. Moses has expanded his needlework to include knitting, embroidery, and his favorite, cross stitching. He has produced countless designs, including an image of Our Lady of Guadalupe, the Sacred Heart of Jesus, and an altar cloth that has been used for special feast days.
Fr. Moses displayed his handiwork Thursday evening, during an information session at Maternity BVM Parish, where he is the associate pastor. More than 30 parishioners turned out to learn more and see his work. Fr. Moses begins offering morning classes  July 25 and evening classes July 28.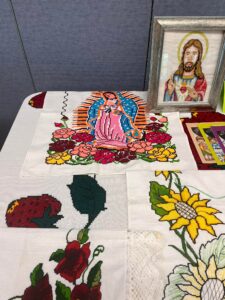 A little more than 15 years after they left the novitiate and professed first vows, Fr. Moses and Br. John now find themselves reunited at Maternity BVM Parish. While Fr. Moses works with the Spanish speaking community and in faith formation through the RCIA program, Br. John is a full-time student at Catholic Theological Union in Chicago.
"I think it is great," Br. John says, "that Moses is sharing his hobby with the faithful of Maternity."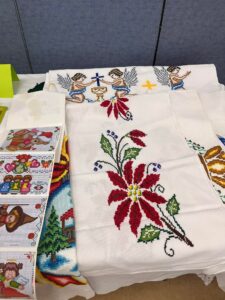 This is the second time Fr. Moses has started a Knitting Social Club at a Viatorian Parish. Prior to coming to Maternity, he served at St. Viator Parish in Chicago, from 2014-2021, where he offered classes and drew many interested parishioners.
Not only is he sharing his hobby with his parish family, but Fr. Moses is advancing the Viatorian mission, of building up communities where faith is lived, deepened and celebrated.