The season of the St. Anne Novena has begun.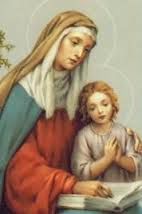 After 134 years, the devotion to St. Anne continues at the nation's original shrine, located in St. Anne, Illinois.
Viatorians have run the historic St. Anne Church since 1920 and as a result, they have continued the tradition started by its French Canadian founders, of holding a novena to the mother of Mary, for nine days leading up to her feast day on July 26.
"This is a place of grace, where many have found peace and healing," says Fr. James Fanale, CSV, pastor. "What a wonderful intercession she is for all us who have come to St. Anne, with the sense that she knows just where we are in our lives. With the tender brush of her hand, we are her much loved children."
The novena is observed at Maternity of the Blessed Virgin Mary Church in Bourbonnais, Illinois, and at St. Anne Church in St. Anne, Illinois.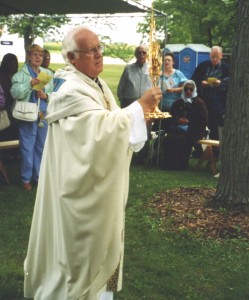 At Maternity BVM in Bourbonnais, prayers to St. Anne will be offered daily at every 7:30 a.m. morning Mass, and at 7:15 a.m. Mass on Sunday. The statue of St. Anne and a relic of St. Anne will be in the sanctuary for veneration.
The novena also will be celebrated at St. Anne Church, at 7 p.m. July 18, at 4:30 p.m. July 19, at 9 a.m. July 20, and at 7 p.m. July 21-25. Fr. Jason Nesbit, CSV will celebrate these Masses at St. Anne Church and offer reflections.
The novena culminates on July 26 with a day-long celebration in honor of St. Anne. Activities begin at 9 a.m. with "Earthen Vessels," presented by Viatorian Associate Marilyn Mulcahy. An outdoor Mass follows at 10 a.m. with the Sacrament of Anointing of the Sick and a rosary procession through the village of St. Anne. The children of St. Anne will put on a program at 1 p.m., with a closing festival Mass at 2 p.m.
Pilgrims may browse outdoor booths for religious articles, plants and fresh cut flowers, as well as light a candle at a small shrine set up to St. Anne, and purchase holy water that flows across one of her sacred medals.
"This place is made holy by the prayers of so many," Fr. Fanale adds, "for so many years."