A Viatorian brother was front and center this month at a special event held at Lazaro Galdeano Musuem in Madrid.
Officials with Confederation "Educacion y Gestion" — who collectively represent the national leadership of Catholic schools in Spain — gathered to celebrate the organization's 25th anniversary.
They also honored its past presidents, including Br. Luis Álvarez, CSV, General Treasurer of the Clerics of St. Viator, who was honored as the first president of the confederation.
He was recognized for his 40 years of service and dedication to education — and to the growth and management of Catholic schools in Spain.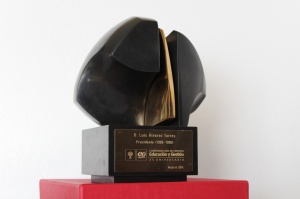 Br. Álvarez served for eight years, or two terms as president, before passing the torch. During his terms, he organized 10 federal assemblies, 26 assemblies of provincial presidents, 4 national congresses and a European congress.
"Congratulations, Luis," said Fr. Alan Ambeault, CSV, provincial superior, "on behalf of the entire congregation."