Feeding the Hungry
June 18, 2013
Viatorians returned to the garden again this summer to recommit themselves to growing fresh fruits and vegetables for the hungry.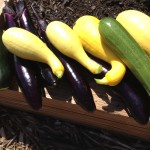 Last year, their first year garden on the grounds of the Viatorian Province Center, produced more than 1,100 pounds of nutritious vegetables, which were donated to nearby Wheeling Township Food Pantry and the more than 400 families per month it serves.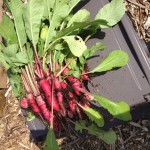 Already this year, gardners have donated nearly 1,000 pounds of produce, including radishes, lettuce, beets, peppers, zuchinni, squash and eggplant. And the tomato plants are just starting to produce.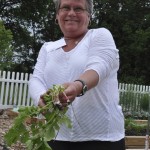 In August alone, they made more than 20 donations of vegetables to the food pantry, and it did not go unnoticed.
"They were a wonderful and healthy addition to the pantry," said Julie Villarreal, general assistance director. "We serve families who are experiencing need in these difficult times, and we are grateful for your compassion and willingness to help."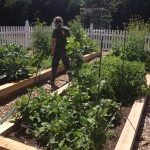 The neatly tended, white fenced-in garden includes 14 beds, nourished with natural compost and with a water source moved inside the garden, to enable watering.
Interest in their garden is growing. While Fr. Dan Hall, CS V, leads the project, gardners now include Viatorian associates and staff members as well as students from Saint Viator High School who are rolling their sleeves up and tending their own beds.