After more than 30 years, Harvest Sunday has become a well-honored tradition in the Bourbonnais/Kankakee region, and families know to expect.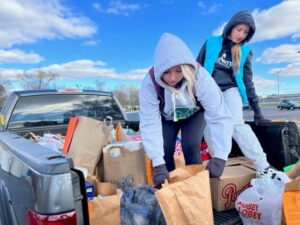 On the first Sunday of November, they receive flyers about a food drive for area food pantries. One week later, teams of students from all of the Catholic parishes in the area work together to collect the food.
This year was the 31st year for Harvest Sunday, and Bishop McNamara High School again served as the host site, or staging area for all of the donations.
That's where Associates Ken and Michelle Barrie, and Associate Paula Wasser greeted teens when they arrived with all of the food. This year, rather than going door to door to collect donations, non-perishables were picked up after weekend Masses, and brought to the high school.
Adults and teens then work together to fill barrels and boxes with donated food, and helped load them into waiting food pantry trucks. In all, the drive helped stock the shelves of 10 food pantries in the greater Kankakee area, just in time for the holiday season.
Feeding the hungry is a priority of the Viatorian Community, and these associates get energized accompanying young people serve "those accounted of little importance."
"We have amazing teens and adult volunteers," Michelle Barrie says, "that make this a blessing for so many."