A Viatorian garden, started four years ago by Fr. Dan Hall, CSV, as a ministry to feed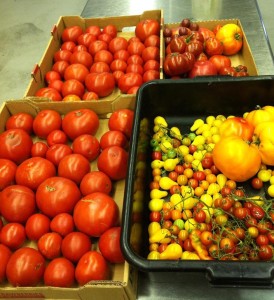 the hungry, continues to provide fresh vegetables for families struggling to make ends meet.
This year's harvest wrapped up recently and the numbers are staggering: More than 1,200 pounds of vegetables were donated to the nearby Wheeling Township Food Pantry, as well as nearly 200 bouquets of hand-tied flowers.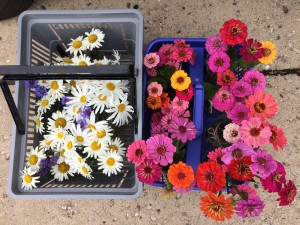 Since the garden began, Viatorian gardeners have contributed nearly three tons of vegetables to the pantry — which serves 400 families per month — as well as 375 floral arrangements, which were given to Meals on Wheels recipients.
"I'm so thankful," said Associate John Dussman, who coordinated the ministry this summer. "So many people helped to make this possible."
He points to the associates, staff members and even Saint Viator High School students and their families who pitched in, as well as the Viatorian Community, which recently contributed 24 cubic yards of enriched soil, to boost the beds for next year.
Dr. Michael Schroeder, a Saint Viator High School graduate and Wheeling Township supervisor, wrote to thank the gardeners for their commitment to feeding the hungry.
He thanked them for their more than 50 donations over the summer months, which included: eggplant, squash, zucchini, tomatoes, cucumbers, green beants, beets, peppers, herbs and fresh flowers.
"These all were a wonderful and healthy addition to the pantry," Schroeder said. "Every donation makes a difference in someone's life and brings relief during a time of need."
Dussman thanked his faithful gardeners and left them with this poem:
With night coming early, 
And dawn coming late, 
And ice in the bucket 
And frost by the gate.
The fires burn 
And the kettles sing, 
And earth sinks to rest 
Until next spring.
–  Elizabeth Coatsworth