The beauty of God's creation can be seen in the fall colors unfolding on the Province Center grounds.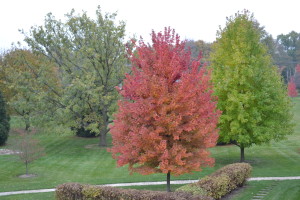 Nearly 100 trees dot the campus in Northwest suburban Arlington Heights, which the Viatorians converted from rich farmland more than 60 years ago.
Of special note is the red sugar maple, located in the center of the grounds and visible from the main dining room of the center.
It was a gift to the Viatorians in 2007 from the Province of Canada on the occasion of the 125th anniversary of the Province of Chicago.
Visitors to the Province Center also will see many other varieties of maple, fir and birch trees that grace the grounds, as well as a giant willow tree, a copper beech and a flowering Japanese larch located near the main entrance.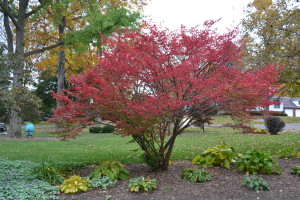 Three pieces of sculpture also can be found on the campus, including Our Lady of Grace, which is a replica of a famous statue in Rome; as well as one of St. Viator, the community's patron saint, and a guardian angel overlooking the north lawn.
The Viatorians purchased the farmland in 1951. It dated back to the mid-19th Century, when German immigrants farmed the 88 acres.
Fr. John Brown, CSV, provincial at the time, moved the novitiate into the red brick farmhouse on the property, while a new building could be erected. The Province Center was designed as a school for the novices of the community and provincial residence. It still serves as the main residence for the provincial, assistant provincial and retired community members, and contains the Creation Chapel, a main dining room, meeting rooms, staff offices and galleries featuring the community's art collection.
The farmhouse has been home to Missionary Sisters of the Sacred Heart and Our Lady of Guadaloupe, since 1961.