With just 10 days left until Cristo Rey St. Viator College Preparatory High School opens, faculty members gathered appropriately enough, at Mass in the school's new chapel.
It was the first official event in the new school, located in North Las Vegas. Within the last few weeks, faculty meetings have taken place as well as a three-week workforce development program for students, but both took place off-site while construction finished up.
With sun streaming through its glass cross and multiple windows, faculty and staff celebrated in honor of Cristo Rey, or Christ the King, and the school's' patron, St. Viator.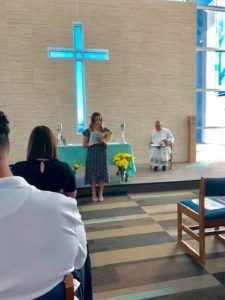 "It was the first ever Mass in the Chapel at Cristo Rey St. Viator with our amazing faculty and staff," said Br. Rob Robertson, CSV, school counselor. "We are ready."
Fr. Thomas von Behren, CSV, president, was the celebrant, while teachers helped with readings and music.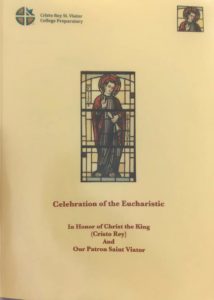 In his role as president, he is working to ensure its Viatorian identity and mission, as well as academic rigor and work experience.
More Viatorians on staff include Br. Carlos Flórez, CSV, enrollment officer, as well as Associate Deborah Perez, who heads up its Corporate Work Study Program and Associate Dan Schwarz, communications director.

In keeping with its Cristo Rey model, the school will integrate rigorous college preparatory academics with its innovative Corporate Work Study Program, to prepare young people of limited means to become men and women of faith, purpose and service.