Fr. Arnold Perham, CSV, is an award-winning mathematician, who has taught math at Saint Viator High School since it opened and even in retirement he continues to work with math team members.
But even they were surprised to learn of his hidden talent: printmaking.
Fr. Perham was one of nearly 20 faculty members to submit art work to be featured as part of the school's fine arts week. His was the only relief print in the mix, and it is just one of many that hang in his room at the Viatorian Province Center.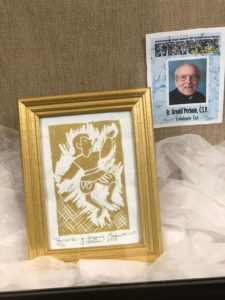 The first print he tried his hand at was more than 20 years ago, he says. The result features a series of orange slices and he says he was drawn to it because of the color and its natural geometric figures.
The print he submitted to the high school exhibit features one of the "Lords of Leaping" from the 12 days of Christmas and was made with printmaking tools by former Saint Viator art teacher, Fr. Ray Novacek, CSV.
"I figured the kids would like it," Fr. Perham says.
They did and so did the art teacher who hung the exhibit, Mr. Matt Gruenwald.
"I was amazed at the variety of talents our community has," he said.
Fr. Perham, like other faculty members who participated, said they became involved in art as a creative release and as an extension of their pursuit of lifelong learning.
"My father was involved in printmaking and engraving," explains Fr. Perham, who will celebrate 70 years of religious life this year. "Like father, like son, I guess."