This year's graduating class at St. Viator Parish School in Las Vegas just cemented their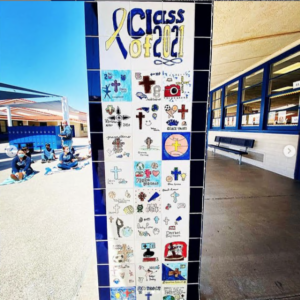 legacy. Their hand-painted ceramic tiles were installed over spring break on columns in the school courtyard.
Each one displays students' interpretations of the theme from Catholic Schools' Week: Faith. Excellence. Service. These columns now showcase the Class of 2021 and stand as a testament to their Catholic education.
They also underscore the school courtyard as a sacred space. It was there that students and their teachers gathered the day after the shooting massacre in Las Vegas, in 2017, to pray the rosary. Just last month, Fr. Bill Haesaert, CSV, read the parable of the Lost Sheep to preschoolers and kindergartners, carrying on a near 20-year tradition.
Fr. Bill returned this week to gather with eighth graders to bless their work. He read from the book, "Prayers for the Domestic Church," which draws on the Christian heritage of making the family home a domestic church, or a center for recognizing and celebrating God's presence in the family.
Parishioners of St. Viator Catholic Community and its school families consider themselves a family. Working together, they ground students' education in a passage from the prophet Micah, to: "Act Justly, Love Tenderly, Walk Humbly with your God."