After years of fundraising and 18 months of construction, the 400 students at Cristo Rey St.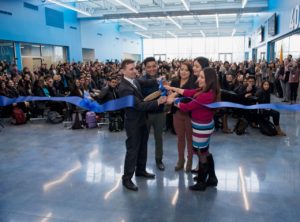 Martin College Prep walked into their sparkling new school on Tuesday and the feeling was one of excitement — and empowerment.
"Finally," said Principal Michael Odiotti, "students have a building they deserve — in a true college prep environment."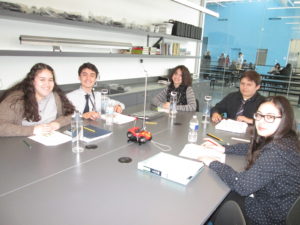 Located at 3106 Belvidere Road in Waukegan, an $18.5 million adaptive reuse project — led by JGMA architects and the McShane Construction Company — converted a former K-Mart big box store into a state-of-the-art high school.
"This is a milestone moment for us," said Preston Kendall, school president. "We have a lot of really talented young people who come from very hard-working families who need help. We believe education is the door to their opportunities."
Viatorians have supported the school since it opened in 2004, and they were on hand for the ribbon cutting, including Fr. Charles Bolser, CSV, a former president; Fr. John Milton, CSV, a science consultant; and Associate Jim Thomas, who serves on its board of trustees.
The school had long ago outgrown its leased space at the former St. Joseph Parish complex, a former grade school on a two-acre property comprised of less than 30,000 square feet on the south side of Waukegan, but fundraising took time. Administrators stress this is just Phase 1 of the project, with the next phase to add a chapel, gymnasium and fine arts facilities.
"Finally, our dream came true, through the hard work of a lot of great people," Odiotti added. "It will help us to continue with our mission of preparing each of our students to get to — and through — college and prepare for professional work, all in the context of faith and justice."
CRSM is part of a national network of 32 schools dedicated to the Cristo Rey mission. It blends a rigorous academic education with significant work experience through its Corporate Work Study Program. Students spend one day every week, plus an extra day monthly, working for the more than 80 Lake County companies who partner with the school.