Kathy Kelly coordinates Voices for Creative Nonviolence, the Chicago-based grassroots resistance movement to U.S. war making.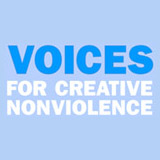 Her latest articles reflect the effects of the three years of war on Yemen, that have caused the deaths of an estimated 85,000 Yemeni children under the age of 5, and overall, up to 14 million facing this conflict-driven famine.
Starvation, she writes, is being used as a weapon of war — by Saudi Arabia, the United Arab Emirates, and by the superpower patrons, including the United States, that arm and manipulate both countries.
Read Kelly's entire article, here.