Excitement is in the air this week at Cristo Rey St. Viator College Prep in North Las Vegas, as students returned to school Monday to begin the 2021-2022 school year. This is the third year for this Viatorian school and the first time with freshmen, sophomores and juniors.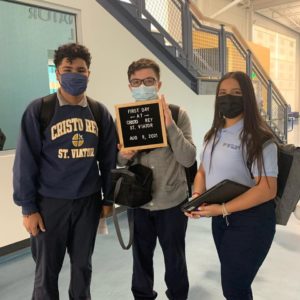 "Despite the worldwide 2020 pandemic, our new and technologically advanced high school is ready for our third school year," said Fr. Thomas von Behren, CSV, President, in a message to the parents. "We are excited to welcome our new freshmen class, our returning sophomores and juniors — our future first graduates, Class of 2023."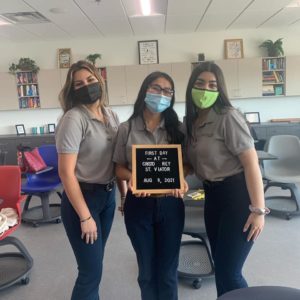 For incoming freshmen, the first day seemed like a homecoming of sorts. In July, they spent two weeks at the school participating in a workforce development program, called ACES. In it, students received business training and an introduction of CRSV academics to prepare them for the rigorous college prep classes and get a head start for a successful school year.
Led by Associate Deborah Perez, Director of the school's Corporate Work Study Program, the training covered everything from how to introduce yourself and write an email, to the basics of Microsoft Excel and other common business programs. And this year, all of CRSV's students will need those skills. After a year altered by the pandemic, in which they were unable to go to their work places, this new school year means a return to work, which will help pay their tuition as well as immerse them in professional settings.
The school is one of 38 high schools across the country in the Cristo Rey Network. Its unique model integrates four years of rigorous college academics with four years of professional work experience through its Corporate Work Study Program. Established in 2019, CRSV models other Viatorian schools which strive to educate its students to become men and women of faith, purpose and service.