Fr. Thomas von Behren, CSV, has been with Cristo Rey St. Viator College Preparatory High School in North Las Vegas, since the announcement of the school, back in 2016, through this academic year, having seated all four classes of the school in its first four years. In May, Fr. von Behren announced he was leaving, and a nationwide search for a new president is under way.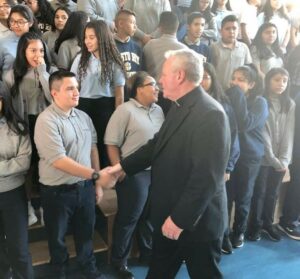 The Clerics of St. Viator, who own and sponsor the school, believe this role is an excellent opportunity for a mission-inspired leader who is open to new adventures and challenges. Leaders from a wide variety of professional backgrounds, who believe in the power of education to transforms lives, are encouraged to apply.
Cristo Rey St. Viator is a Catholic college preparatory high school that serves young men and women in grades 9 – 12. The school welcomed its inaugural freshman class in 2019 and has grown to 255 students today. Cristo Rey St. Viator is located in North Las Vegas, on a newly constructed campus, with no debt.
The school has one of the finest facilities in the Cristo Rey Network, with modern classrooms, athletic facilities, technology, a student chapel, dining commons, and a black box performing arts studio – all a part of a safe and secured campus.
Students at Cristo Rey St. Viator benefit from a college preparatory curriculum that integrates academics, professional work experience, co-curricular activities, and service to empower success in high school and college. One hundred percent of Cristo Rey St. Viator students participate in the Corporate Work Study Program (CWSP), a distinguishing feature and program of a Cristo Rey Network school.
Specifics about the role:
Position begins July 1, 2023
Position Title/Location: President of Cristo Rey St. Viator Preparatory High School in Las Vegas, Nevada
Applications for the position are being received now through January 18, 2023
Compensation range: competitive salary and benefits
Preferred qualifications include:
Practicing Catholic who is comfortable articulating how social justice is a manifestation of her/his faith
Articulate and inspirational communicator
Management experience, including team building and staff development
Fundraising and business development
Networking and relationship-building, both internal and external
Experience working with communities with limited economic resources
Demonstrated commitment to diversity, equity, and inclusion
Bachelor's degree Advanced degree preferred.
Lester Consulting Group, Inc. of Sacramento, CA has been hired to facilitate the search process. Inquiries and applications may be directed to Robert Jordan, Adjunct Consultant, at crsvsearch@lcginc.net or (707) 227-6851.
Applications are due January 18, 2023. For more information on the opportunity and the application process, please see the more detailed Candidate Profile at https://www.lcginc.net/open-leadership-searches.