Part of the mission of Cristo Rey St. Viator in North Las Vegas is to educate students to become men and women of faith, purpose — and service.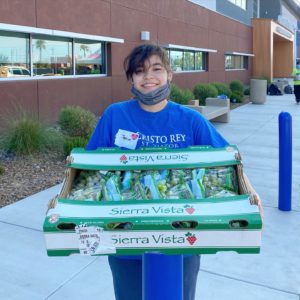 Service is a key element of all Viatorian schools and at Cristo Rey St. Viator, students demonstrated that Saturday when they hosted a pop up food distribution event on the school's campus, in partnership with the nonprofit organization, Just One Project.
"What a wonderful experience sharing a service project with students, faculty and friends of Cristo Rey St. Viator," said Fr. Thomas von Behren, CSV, President, "Our students always are ready to serve those in need, recognizing that we are called to be servant leaders."
Cristo Rey St. Viator is the newest site for the Pop Up & Give Mobile Food Market program, which brings food into neighborhoods where food insecurity is the highest. As a participating partner, it stretches Just One Project's network to 13 locations across Southern Nevada.
Like the other sites, Cristo Rey St. Viator will host these mobile food distribution events one Saturday a month, but this first time event on Saturday demonstrated the need.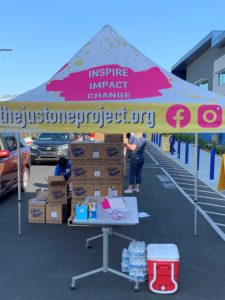 In just two hours, student and staff volunteers provided groceries to 154 families, or 755 individuals.
"All of this was done with 30 volunteers from the Cristo Rey St. Viator community," says Ms. Cristina Medina, director of student life.
Working together, they counted food items, including non-perishable items and fresh fruits and vegetables, before loading them into boxes and transporting them into individual cars as they pulled up through the line.
Just One Project was started in 2014 by Brooke Neubauer and is one of the fastest growing nonprofit organizations in Southern Nevada. On average, its pop up mobile food markets provide more than three million pounds of groceries to more than 200,000 people — every month.
Cristo Rey St. Viator students now join in Just One Project's vision of "mobilizing volunteers to build stronger and healthier communities."