Traditions are building at Cristo Rey St. Viator College Preparatory High School in North Las Vegas, but this much its first year students know: This is unlike any other school they've experienced.
Take its freshmen class retreat, held Jan. 10. It took place at St. Viator Parish in Las Vegas, where parishioners and youth ministry teens, led by Associate Rosy Hartz, volunteered and welcomed the faculty, staff and students.
"Welcome signs were posted, the room was prepared for us, and the students entered the retreat with open hearts and an open spirit," said Fr. Thomas von Behren, CSV, President.
Fr. Richard Rinn, CSV, Pastor of St. Viator Catholic Community, credited his parishioners for their participation.
"I am very grateful for all the good things they do for our parish community and Cristo Rey St. Viator," Fr. Rinn said.
This first time retreat drew several Viatorian Associates and graduates of the Viatorian Youth Congress to participate. They led presentations on various forms of prayer,  and served as hosts and mentors throughout the retreat.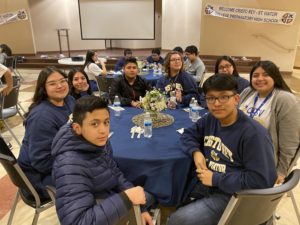 After all, they share a common bond: Both the parish and new school were started in Las Vegas by Viatorians, consequently they look for ways to support one another.
During the daylong retreat, freshmen broke into small group sessions, before enjoying a casual lunch and attending Mass, celebrated by Fr. von Behren.
Br. Rob Robertson, CSV, works as a counselor at the school and he facilitated as a small group leader during the retreat. He described the day as a huge success and that his students gave it two thumbs up.
"Most of the students had never experienced a retreat before and were hesitant about what to expect," Br. Rob said. "By the end of the day there were smiles and a renewed sense of our mission here at Cristo Rey St. Viator."
In topping off the meaningful day, members of the parish's Men's Group prepared a chicken parmigiana and pasta dinner, and served it on tables decked out with tablecloths, flowers and china.
"It was all about team building, soul nurturing, food and fun — in one very long day," said Associate Deborah Perez, who not only is a St. Viator parishioner but she serves as director of the Corporate Work Study program at Cristo Rey St. Viator.
Teachers at the school knew it was a success when students returned on Monday asking for the instructions on how to pray the rosary and times of Spanish Masses throughout the Las Vegas Diocese.
"It was a great first retreat, with a warm, loving welcome by St. Viator Parish," Fr. von Behren added. "We are so thankful and grateful to our host and partners."