After months of remote learning, graduates of Cristo Rey St. Martin College Prep gathered July 24 for a socially distant graduation ceremony, held outdoors in the parking lot of the school.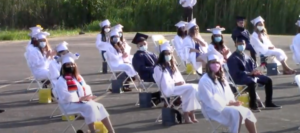 "Class of 2020, it feels like months since I've seen you," declared Preston Kendall, President. "It's good to see you!"
The 99 graduates made up the largest graduating class in the history of the school and they set several benchmarks for excellence, said Principal Michael Odiotti.
"This is the first time in school history where every graduate was accepted into a four-year bachelor's program," he said, "which is a remarkable benchmark."
Graduates processed in to the traditional fanfare of "Pomp and Circumstance," and one by one they went on stage to accept their diplomas. At the end of the ceremony, members of the school's endorsing religious communities — Sr. Judy Seiberlich of the Sinsinawa Dominicans, and Br. Michael Gosch of the Viatorians — came forward to bless the class. A representative from the Society of the Holy Family was unable to attend.
"Gracious and loving God, we ask for your almighty hand to be upon these graduates as we send them forward.
With their classes and exams now complete, may they strive toward excellence in all they do.
In the company of their families, may they celebrate and lift up those around them.
As they walk away from Cristo Rey St. Martin, may their voices rise up to proclaim peace and justice in the world.
With their journey leading them beyond CRSM, may they always find joy in future endeavors and adventures.
With degrees in hand, may their achievements continue to grow and build up their communities.
As Cristo Rey educated, may they always know they are children of God, destined to be a blessing in our world.
As our prayer is ending, may they go forth and set the world on fire, from this day onward.
Grace be to them. Amen"