Stop the presses! Not even a global pandemic could stop supporters of Cristo Rey St. Martin from celebrating the school's successful mission.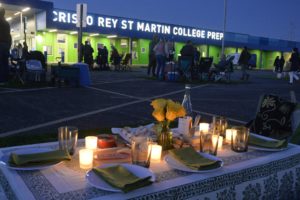 The 8th annual ELEVATE Festival and Fundraiser took place Friday, outdoors in the school's parking lot. Guests gathered around socially distanced picnic areas, bringing their own food and refreshments and all strategically placed in front of the stage to watch a live music performance.
"Our planning committee listened to science and analyzed the CDC and Health Department guidelines," says Preston Kendall, president of the school. "They determined we could hold a safe event outside. Having a huge parking lot certainly made the difference."
The re-imagined evening drew 150 supporters, and together with event sponsors, raised more than $200,000 to carry out the school's mission to "empower young people to graduate ready to succeed in college and life." Viatorians were among the  major sponsors. They have been an endorsing community since the school's inception, in 2004.
Kendall welcomed guests to the festivities which included videos projected on the big screen, short presentations by CRSM students and remarks by Waukegan Mayor Sam Cunningham.
In his speech, Mayor Cunningham pointed out the critical role Cristo Rey continues to play in the educational, financial and cultural growth of the Waukegan and North Chicago communities.
CRSM student ambassadors were invited up on stage to talk about their work study experiences and their plans for the future.
As part of the event, guests toured the campus and its nearly completed Phase 2 construction project which includes a new gymnasium, health and fitness facilities, new classrooms, labs and a chapel.
"Some of our donors were unable to attend the event but they believe in our students and our mission," Kendall said. "They increased their support knowing CRSM is more dependent than ever on traditional fundraising while our Corporate Work Study Program and business partners struggle to return to work.
"For everyone who attended and for those who were with us in spirit," he added, "we are incredibly grateful."