Parishioners at St. George Church in Bourbonnais value their sacred outdoor space almost as much as inside the church.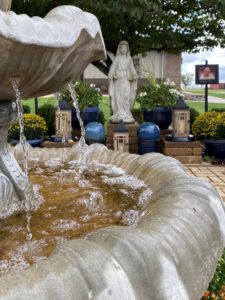 That's why its Art & Environment Committee worked with members of the St. George Garden Club to create an altar of remembrance — outside — to honor family members who had passed away over the last two years. Taking framed photos of loved ones, they displayed them around Mary's garden, which they created last year during a year devoted to the Blessed Mother.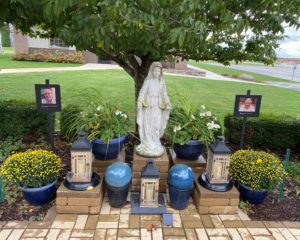 "We decided to do create the altar outside so everyone can visit and remember a loved one," says Associate Paula Waller. "Everyone is invited for prayer or just to visit, even if their loved one had passed away long ago."
Already, parishioners gather in the garden on the first Wednesday of each month to say the rosary as well as prayers from Pope Francis. However, in the month of October, they are praying amid the cherished photos of family members now enjoying eternal rest.
"It's all about community and friendship," Paula adds, "and receiving God's grace in our lives as we pray together."