After months of research and documentation, a side altar in the Province Center Chapel was transformed into a reliquary
chapel. It features relics from more than 50 saints hanging in a display case, with an accompanying book giving a glimpse into the lives of these saints and in some cases, include the certificate of authenticity from the Vatican.
Br. Donald Houde, CSV, unofficial curator for the Viatorian religious art collection — and sacristan — uncovered the relics and set out to document and share them. They are believed to have been given as gifts to early provincials, who began preserving them in the main and side altars when the current Province Center opened in 1951. Some date back to the early 1900s, when they were given to Viatorians serving at St. Viator College in Bourbonnais.
Br. Houde worked with Associate Joan Sweeney, Viatorian Archivist, to identify the relics. They range from those of Fr. Louis Querbes, founder of the Viatorians, to St. Viator and Bishop Just, as well as more well known saints, including St. Theresa the Little Flower, St. Elizabeth Ann Seton and St. John Vianney, just to name a few.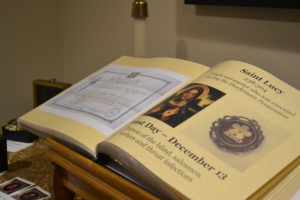 A map of the relics, hanging just to the side of the altar and designed by new Viatorian Archivist, Amy Sherwood, guides visitors.
Fr. Daniel Hall, CSV, Provincial, was an early supporter of sharing the relics with a larger audience. In looking at the newly exhibited display, Fr. Hall added a final touch: a kneeler, for those who wish to pray for the intercession of these holy men and women.
"The saints have always been an example for us, down throughout the ages," Fr. Hall said. "But of course, Christ is the one who is at the center of our lives."
The relics made their debut Dec. 13, the feast of St. Lucy, which was fitting. One of the relics featured in the case, and in the book, is a relic of St. Lucy's.
According to its certificate of authenticity, Viatorians received the relic in 1947. St. Lucy, who was an early virgin and martyr of the church, is the patron saint of the blind, but thanks to the new display she is out of the dark of the main altar and into the light of day.
Come, visit these relics and learn more about the saints.