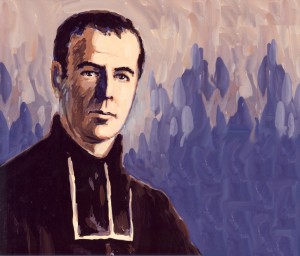 At the recent General Assembly, when provincials from all of the Viatorian provinces, delegations and foundations gathered for an international meeting of solidarity, they closed out their sessions with a solemn liturgy, which commemorated the 200th anniversary of the ordination of Fr. Louis Querbes.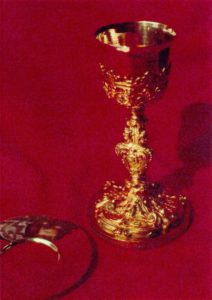 Before Mass, each of the nearly 40 Viatorian associates, brothers and priests laid a single grain of wheat on the altar, symbolizing the fruit of Fr. Querbes' ministry that has blossomed in the years since he founded the Clerics of St. Viator, in 1838.
"We are the fruit of his ministry," said Fr. Thomas von Behren, CSV, provincial. "We are his legacy."
Each member received an image of the chalice and paten used by Fr. Querbes, dating back to his ordination on Dec. 17, 1816.
It took place in the chapel of St. Irenaeus Seminary, not far from his home in Lyons, France. He was ordained by Bishop Louis Dubourg, the newly named bishop of New Orleans, before being assigned as associate pastor of his home parish, St. Nizier in Lyons.
The late Br. Leo Ryan, CSV, dedicated much of his ministry to promoting the life and ministry of Fr. Querbes, especially in his quest for sainthood.
In a series Br. Ryan wrote documenting the life of Fr. Querbes, he described his priestly ministry.
"Fr. Querbes was animated by a lively faith, pastoral outlook and an abiding concern for the education of youth," Br. Ryan wrote in 2004. "In post-revolutionary France, he saw the great need for catechesis and he promoted devotions, liturgy and music to nurture and deepen the faith.
"This charism of Fr. Querbes," Br. Ryan added, "still animates our Viatorian ministry."