The resume of Br. Leo Ryan, CSV, is filled with accomplishments, from his years as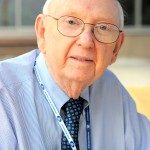 dean of the business colleges at Marquette, Notre Dame and DePaul; to heading Saint Viator High School as its first president; to his published works of more than 500.
Yet, it is his years in the Peace Corps —  he served as director of the Peace Corps in Nigeria from 1966-68 — and in particular, the volunteers he trained at Marquette University back in 1964, that remain among his fondest memories.
The group began getting together in 2004 to commemorate the 40th anniversary of their departure, and now have convened every other year, with Br. Leo among them.
"It's exciting to see what varied careers they have chosen," Br. Leo says, "and follow their success and that of their children, who have focused on public service."
This year marks the 50th anniversary of their return, and as fate might have it, the grandson of two of those students — the late David Jones and Connie Cookus — attends Saint Viator High School and recently starred in the musical, its 50th.
Zac Jones is the son of Matt and Nannette Jones. He is a junior at Saint Viator, and was one of two students to play the role of Harold Hill, in The Music Man. 
When he was admitted, Zac was selected for the Querbes Scholars program — designed for  students of exceptional academic promise, highly motivated and imbued with a faith-based concern for others — and he also received another award, the Br. Leo V. Ryan, CSV, Scholarship.
Br. Leo says he takes great pride in following young Zac's accomplishments, but adds that he reflects the qualities of his parents — and his grandparents, who back in the 1960s were among the first volunteers to advance the cause of peace by working in the developing world.