A delegation of teens from Colegio San Viator in Bogotá, arrived with their religion teacher on Saturday and the very next day they took in a tour of Millenium Park and Navy Pier in Chicago.
What  really excited them, however, was the chance to meet up with other students from Viatorian schools and parishes in this country, at the Viatorian Youth Congress, which opens today.
"I'm nervous and excited and happy — all in one," said Lina Camacho, a junior from Bogotá.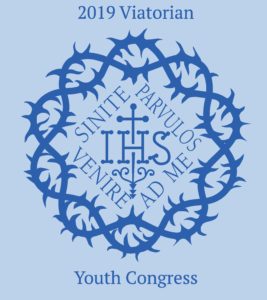 Her classmates agreed, adding that they had talked to delegates who attended last year's VYC , which helped prepare them.
"I am excited to improve my relationship with God, improve my English and share my experiences with others," said Freddy Niño, a junior from Bogotá.
Maria Alejandra Villalba said she was excited to meet new people and experience a new culture.
"During these three days, I want to learn from other people — and share what we have experienced in Colombia," Maria said.
Before leaving for VYC, the delegation met with Fr. Daniel Hall, CSV, Provincial and Fr. Robert M. Egan, CSV, Superior General. One of the delegates, German Laitan, asked if he could tour Saint Viator High School, that he had heard so much about.
"I think this experience will help me learn more about myself," German said, adding that it fell in line with the goals of the International Baccalaureate Program at his school, and its challenge of academic achievement and personal growth.
This is the second year that Duván Medina, a religion teacher at Colegio San Viator, is bringing a delegation to the congress.
"It's really important that they can obtain more information about the Viatorian Community," Medina said, "and that they experience the Viatorian charism in this country."