Let the celebrating begin!
A little more than 50 years after Viatorians opened Colegio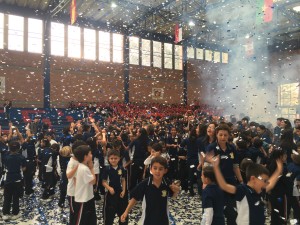 San Viator in Bogotá— with 32 students taught by five Viatorian priests and one lay teacher, in prefabricated classrooms — it has earned worldwide recognition.
On April 29, school officials learned the school's Primary Years Program had received its certification as an International Baccalaureate school.
"The International Baccalaureate is recognized worldwide because of its high quality programs and rigorous assessment methods," says Diego Cordoba, director of the Primary Years program. "We share the IB mission of aiming to develop inquiring, knowledgeable and caring young people who help to create a better and more peaceful world through intercultural understanding and respect."
While there are other schools in Bogotá accredited by the IB program, San Viator is one of the only ones on the "B" calendar, or one that started its new term in February, and that offers the continuum of international education at every level.
"High school students will be recognized at national and international universities because of these high, excellent academic standards and excellent value formation," Cordoba adds. "Being a part of the IB will open doors for students in many parts of the world."