The Washington-based Coalition on Human Needs works with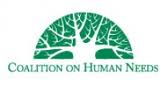 national organizations to promote public policies which address the needs of low-income and vulnerable people.
Its latest Human Needs Report issues updates on budget and appropriations items, immigration, poverty, education and labor, and taxes and the economy.
Read some of the highlights, including about the House and Senate passing a $4.59 billion emergency spending bill and sending it to President Trump for the humanitarian crisis on the southern U.S. border. The measure, which primarily consists of funds for food, shelter, medicine, and enforcement personnel, was a victory of sorts for the Trump Administration.
Read the full Human Needs Report, here.